---
But as winter nears, Sam must fight to stay human—or risk losing himself, and Grace, forever. 1- Shiver - Maggie nbafinals.info KB. Read Forever read free novels online from your Mobile, Pc. Forever is a Young Adult novel by Maggie Stiefvater. Maggie Stiefvater Author (). cover image of cover image of Forever · Forever. The Wolves of Mercy Falls Trilogy (Series). Book 3. Maggie Stiefvater Author.
| | |
| --- | --- |
| Author: | JOSLYN DOOLIN |
| Language: | English, Spanish, Hindi |
| Country: | Serbia |
| Genre: | Environment |
| Pages: | 618 |
| Published (Last): | 04.01.2016 |
| ISBN: | 354-7-21631-323-5 |
| Distribution: | Free* [*Sign up for free] |
| Uploaded by: | CECILIA |
---
77064 downloads
114535 Views
34.84MB PDF Size
Report
---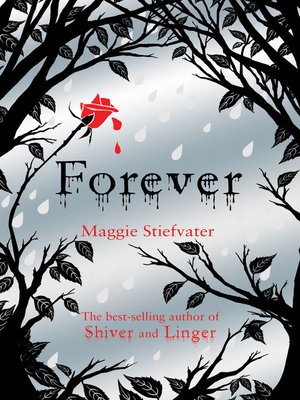 Maggie Stiefvater Collection: Forever, Linger, Shiver, Ballad, Lament From acclaimed YA authors Maggie Stiefvater, Tessa Gratton, and Brenna Yovanoff. Maggie Stiefvater is the #1 New York Times bestselling author of Shiver, Linger, and Forever. Since publication, rights to thirty-five foreign edi-. Linger Maggie Stiefvater To Tess, partially for the clever stuff, but mostly for the bits in Anyway, it took forever, of course, like it always does in a hospital, and I .
Shiver tears my heart in two every single time I read it. I felt Linger had its problems, mostly in the diluted narrative with the addition of two more POVs, but it was still extremely moving and I wanted to see what happened next. How strange it is, then, to read Forever and experience nothing even close to the emotions the first two books inspired. The Wolves of Mercy Falls series is love story told almost like a fairy tale. I am far less interested in Isabel and Cole. I like them just fine, even though they are both just typical YA characters that can be found in other novels. This is the end. There are no more books. The story is even further fragmented by the addition of yet another POV, which was completely unnecessary and added nothing to the story. There are too many starts and stops that interrupt the flow of the action, there is a scene of shocking ugliness view spoiler [involving the increasingly crazed Shelby and a dead bird hide spoiler ] that I thought was completely out of place, and the actual resolution to the problem seemed to be dragged out far too long. Sam and Grace also seemed like shadows of their former selves, and I found myself becoming impatient with the way their narratives dawdled over insignificant details. There are a few good scenes later in the novel that involve some sacrifices, but I read them with a fairly detached attitude.
And he would probably not have let you out of his sight to begin with. The reunion scene was incredibly distant and anticlimactic, and the actual ending was even more of an emotional dodge.
Everything honestly felt as though it was done for sake of a writing technique rather than something that was really true to the characters--or true to human nature. But for me, this story has always been about the boy who became a wolf in winter and the girl who loved him. I am unbearably saddened that their beautiful story has become so diluted and so…mundane. I bleeding heart love Shiver and will always be grateful for the beauty and wisdom and romance it brought into my life.
But I will probably be much happier if I forever look upon it as a standalone novel that is perfect in and of itself. Related Questions Where can i download an e-book of Shiver by Maggie stiefvater pdf file?
Can someone summarize linger, shiver or forever by maggie stiefvater for a project? Has anyone read the book Shiver by Maggie Stiefvater? More questions.
Genre - shiver by maggie stiefvater? Is "Forever" the last book in the Shiver series by Maggie Stiefvater? Answer Questions Was reading all Shakespeare, Homer, and other literature pointless in school? What is the use? Does anyone know of a free app or site for building characters.?
Have you ever read any horror stories that terrified you? Worst tropes in young adult fiction?
Best and worst books you've ever read? When writing a book, do you need to type it or write it first? Unlike most finale books in a series, it is not more fast-paced. In my opinion, it actually seemed slower. There were several periods throughout most of the chapters when the characters - especially Sam - would have these really long, drawn out personal reflections. Flashbacks would occur randomly, and I'd say for about the first pages, the plot just kind of meandered along.
Characters would drift in and out of contact, and oh the angst. Yeah, the series has always been dramatic, emotional too, but I never thought the angst was overdone until now.
Maggie stiefvater Shiver and Forever pdf downloads?
Sam - whom I absolutely adored in Shiver - just kind of moped around and really didn't do much of anything but feel sorry for himself. Cole sat around thinking about how his life used to be. Grace kept shifting and bolting. One or two times and it's dramatic, but four times? Then it just gets downright annoying, I'm sorry to say.
I don't like it when authors have things happen over and over again with the same results. In my playbook, that's repetition, not suspense or excitement. For me, though, I could have forgotten the slow start and the aggravating parts but for the ending. Guys, when you hear the word "forever," what do you think of? Maybe if you're like me, you hear Squints from The Sandlot pulling out the word like "foooooorrreeeevvveeeerrrr" over and over haha.
But you think of something that has closure, right? For me, it's practically false advertising when you've got the final book in a series titled something permanent sounding like Forever , and the ending doesn't have a whole lot of closure. I get it, really I do.
I get that it's bad to give teen characters any kind of "permanent closure," because after all, they're only 18, right? For me, though, it does not work to feed me a story, a fictional story that really is not in the least bit obligated to reflect, endorse, or champion "reality" in which characters have this serious, mature, real-deal love Did I expect the kind of ending that was found in the epilogue of Deathly Hallows?
Well, maybe. I also kind of took issue with the last chapter in general, really.
Grace, to me, made a decision that seemed extremely out-of-character for her, given her relationship and previous history with Sam. All I'm wanting is for a series ending to accurately reflect the series as a whole, and here, it was my perception that the author pulled back a little and went with a more "realistic" ending.
And that just didn't work for me in a series like this. I realize that was a really long, lengthy and highly opinionated explanation, but I do feel like I need to explain what it was that left me disappointed.
View all 9 comments. Bir seri daha bitti. Okudum bitti ba Bir seri daha bitti. View all 7 comments. Jul 03, Mel rated it it was amazing Shelves: I know this series is a hit or miss series, and for most it's a miss, but for me this was a hit. I love the characters too much to hate this story. I am absolutely happy with the conclusion to this story. There are a few unanswered questions at the end but knowing Sinner exists I'm not upset about them.
I just adored this trilogy and this is actually one of those series that I think about sometimes without realizing it. It makes me nostalgic for twilight since its basically the wolves story in t I know this series is a hit or miss series, and for most it's a miss, but for me this was a hit. It makes me nostalgic for twilight since its basically the wolves story in twilight of vampires didn't exist and Bella met only Jacob and it just makes me happy.
Mar 10, Steph Sinclair rated it liked it Shelves: Actual rating: And I did I'm not sure what it is, but Linger and Forever just did not string up the same emotions. Did I enjoy them? But the magic just wasn't there like it was in Shiver.
Maggie stiefvater Shiver and Forever pdf downloads? | Yahoo Answers
Forever picks up a few weeks after the events in Linger. Sam is pretty much going through the motions until Grace shifts back into human form. The n Actual rating: The new threat in the novel is Isabel's father attempting to get the wolves taken off the protective list and Shelby, the crazy she-wolf, attacking and murdering new pack members. Now, while the sparks didn't exactly fly between Forever and I, there were a few things that I did really enjoy about this book: Maggie has such beautiful prose.
It is undeniable. Her writing style calls to me and speaks my soul's language. I think this is most quotes I have "liked" from just one book. I could quote her books all day long because it is so poetic. She just has a wonderful way with words that can invoke so much feeling with so few words. This book can easily be described as "emo," but never comes across as too much teen angst.
The feelings the characters displayed seemed very realistic and believable to me. Need I say more? Dude is made of that special flavor of awesome sauce. His witty, comedic voice was the fudge icing on my German chocolate cake. Grace's relationship with her parents. In a lot of YA novels these days, parents are conveniently out of the picture while out hero or heroine is running of saving the world. Usually, this is unrealistic. However, I really liked how this was handled in this series.
Yes, Grace's parents are not around, BUT this is acknowledged that it wasn't a good thing or normal. In fact, Grace confronts her parents in Forever about this. I think this was important to address because Grace needed her parents and was forced to grow up without them. Isabel's feelings about Jack.
They were so spot on for how a sibling feels about losing the other. So accurate. One main problem I had with this book was that every time something big or interesting was about to happen to one of the characters, it immediately switches to another character's POV. As a result, a lot of the action happens "off-screen" and we are later told about it through another POV. I found this irritating. I would have really liked to see more of Cole's experiments, the science behind the Wolf, and most importantly, Beck's capture!
On one hand, I think it is a very realistic end and it works. It didn't really disappoint me, but it didn't satisfy me either. All in all, this series was a good read and I'm really looking forward to future works from Maggie Stiefvater.
More reviews and more at Cuddlebuggery Book Blog. Aug 08, kazually rated it it was ok Shelves: View all 6 comments. This series has been one long roller-coaster of pure emotional agony from the very first book till it hits the very last page in the third and final installment in, Forever. We have shared epic love, sorrow and an adventure with these characters that I have never had the pleasure to do with other books.
The writing is truly like a piece of art work. I'm sad to see this gorgeous series go and while I had my moments, both the good and the bad, these books will always be treasured in my h: I'm sad to see this gorgeous series go and while I had my moments, both the good and the bad, these books will always be treasured in my heart.
I swear , there is nothing like reading a Maggie Stiefvater book. Her whimsical words are like magic to a drowning person, desperate to finally get what we've been craving for nearly a year. Maggie's writing is pure art, pure poetry and I'll never get tired of it. I love these characters, but I think Cole should take a bow in this book.
I actually got to liking him much more in this round, he's still erratic and a bit of a punk, but I admired his dedication and strength and when honest, is truly something to witness. Isabel will always be a character that I will enjoy, I love her stubbornness and fire. I wish we had more scenes between Sam and Grace in the beginning. The wait was truly painful. But what moments we did get were well worth the wait.
I don't have to much to say about Grace's parents, except that they got more then they deserved in my opinion. As for Beck? Sam and Grace is a couple that will always be unforgettable in my eyes and heart. They have such a passion and such a love that people only dream about.
I have never wanted so much for one couple before and never knew one that deserved it as much as these two. Reading this book was slow exhausting torture, but in the sweetest way possible. My stomach was in knots wanting so desperately for it to turn out with a HEA, almost needing it to the point of physical pain. I kid you not.
Ever page was laced with a teasing tone of uncertainty which made the experience that much thicker, richer and earned an appreciation I didn't think could exist even more then what I already feel for it.
As for the ending, well, I feel that I should be truthful. Was I satisfied? Yes and I'm content, lets put it that way, but I feel that the biggest question still lingered and I hate that I'll forever be thinking about it every time I visit this world again.
It ended on the tone that pretty much described the entire series. With mystery and suspense and above all, hope. So if your looking for an ending with absolute closure, you wont find it here my friends. I wish there was a few more pages or a few last final lines that would make it all okay.
But there wasn't and apart of me is very sad about that. I'm just going to have to hold on to what Cole wisely said; "The thing I was beginning to figure out about Sam and Grace, the thing about Sam not being able to function without her, was that that sort of love only worked when you were sure both people would always be around for each other. If one half of the equation left, or died, or was slightly less perfect in their love, it became the most tragic, pathetic story invented, laughable in it's absurdity.
Without Grace, Sam was a joke without a punch line. They will be missed. I will never forget them and look forward to your next new adventure. Dec 13, Giovanna rated it liked it Shelves: She's not my favourite author, but she is among my favourites, and her Raven Cycle is one of my favourite series of all time. The Wolves of Mercy Falls isn't a disappointment, because I expected not to like it like TRC and at some point I had even decided not to read it, but I can't give it more than 3 stars.
I couldn't help but notice that this Stiefvater is different than the one I've come to love. Some things are already there - the writing is beautiful, the characters are well developed, as always - but the plot is rather And there are more tropes. Take Grace's parents, for example, and you have one of the most common tropes of ya literature: I guess it's normal, because Shiver was Maggie's debut, but still, these are things that bothered me in her unfinished, dammit series about Fae and they bothered me in this one too.
I still liked the series, but I'd recommend her latest books more. I liked Sam and Grace. I think it's wonderful that Maggie can portray different characters and stories, and Sam and Grace's story is extremely different from Puck and Sean's or Blue and Gansey's.
I can't say that I liked Sam and Grace as much as the others, because I find very difficult to imagine a love story like theirs, but I do find them rather cute and romantic. And for all his flaws, I like Sam too. He's not your average ya male character, and I liked that. I also started to appreciate Cole. I definitely saw how much his character has grown and I liked reading from his POV so much that I could try to read Sinner because of that.
His friendship with Sam and Grace was quite cute, I have to say that. The bad stuff has a name: Isabel is everything I hate thrown into a single character. She's one of those people who think that being bitchy is being funny. She's a whiny, self-centered asshat who just insults people and then doesn't do anything. People could die and all she does is be mean and complain because her parents could be angry with her.
And I could keep going about this. She's the reason why I don't know whether I want to read Sinner or not. The plot was rather flimsy. Everything was based on this big, final scene that was rather anticlimatic in the end. Before that nothing happened to be honest. This is why Forever doesn't get the fourth star. It's good and it flows and the writing is great. But it's not enough. View all 34 comments. Jan 31, Amanda rated it really liked it Shelves: Its always hard to review a finale because there's so much to be said about how everything turned out.
Honestly, I feel like I just became a wolf like Grace and Sam and all my human thoughts have abandoned me. I can only think in short thoughts right now so I'm just going to go with it. What I Liked: The imagery was top notch as usual.
Maggie Stiefvater has a way of describing things that makes them feel so visceral and exciting. Isabel and Cole are life! They are infinitely fascinating characters and I can't wait to read their spin off novel. Sam and Grace being in wolf love is the most adorable thing I ever read. I'm just picturing them touching snouts and its wonderful.
The open-ended, bittersweet ending really fit the series as a whole. I don't usually like endings like this but in this case, there was a strange sense of hope about the whole thing that I really loved. What I Didn't Like: Shelby is just a monster and I hate her.
I wish there were more chapters than just one from her perspective. Maybe it would have given me some kind of empathy for her. The pacing felt off. I don't know However, it wasn't as stagnant as Linger so there's that at least. There wasn't nearly enough Isabel and Cole chapters!
Why are all the parents in Mercy Falls a bunch of buttholes? Occasionally, I sort of liked Isabel's mom but she's not winning a parent of the year award by any means. Overall, I enjoyed the finale to the Wolves of Mercy Falls series.
I got what I needed out of it to feel like the story was complete and I was happy with how things turned out.
Maggie Stiefvater
There are some loose ends that were never addressed but they were just the minor practical things like are they selling Beck's house and moving to the lodge or what are they going to do in the future for money and whatnot. Really, I'm more excited that the spin off is a primarily Isabel and Cole story. I can't wait to get into that one. Oct 16, Taneika rated it liked it.
More of my reviews can be found at Flipping Through the Pages! This is going to be an incredibly difficult review. Shiver had me interested, however it wasn't my favourite, Linger was even better and again, Maggie had me a snivelling wreck throughout the book.
As for Forever?
Oh, I wanted to love it, I really really did. Forever explores Isabel's and Cole's relationship, this really pleased me because Isabel and Cole are two of my favourite literary characters ever. They're both just so messed up in the head and real that I can't help but want the two to hurry up and be in a relationship. I was once again impressed with Isabel's character, due to the fact that she actually gave a shit that her brother died. In alot of YA novels, a character's family member or friend may die, and said character then finds true love and forgets all about their lost loved one.
This seriously pisses me off and I'm so so glad that even though Isabel's feelings for Cole were blossoming, she didn't forget the fact that she just happened to lose her brother a few months earlier.
Her inner dialogue really made me sympathise with her because in reality, which Wolves of Mercy Falls manages to portray, this very real depression happens. As for Cole, I really grew to love Cole. His presence sort of annoyed me in Linger because I didn't know why he was even in the story and I thought that he was just added as a balm for Isabel's pain.
However, Cole proved to be extremely intelligent and emotional in this installment and reminded me of many guys I know - not the whole rockstar thing, but the hiding the true emotion thing.
In regards to Grace and Sam's relationship. I was disappointed. She redeemed herself in my eyes when she finally went off her face at her dimwitted parents - her father in particular. As for Sam, well, if you've read my reviews of Shiver and Linger on Goodreads or on my blog , you will know how much of a Sam fangirl I am. That hasn't changed. This installment took me an incredible amount of time to get into, I was over halfway the book when last night, I decided I was going to finished this series and because I found myself more invested in the book then I had the last couple of days.
I stayed up until 3 AM. The ball finally started rolling and I really got into this installment view spoiler [when Officer Koenig figured out the wolf situation hide spoiler ]. When the ball started rolling, the tears started to flow.
Really, this entire scene had me in tears, but that last sentence made me BAWL. At one point, after Cole was done waiting for the wolves to come and when he saw Sam and Shelby, I went crazy. These last few chapters had my emotions swinging one way to the other and I had emotional whiplash. Also, I saw Beck's death coming but I didn't start crying until Sam was on the ground hide spoiler ]. After said particular scene, I felt numb and angry.
I didn't even cry when I normally would have because I was in shock. THEN Maggie pulls another stunt, which made me happy again view spoiler [Cole actually living, I sort of expected it but it still made me immensely happy hide spoiler ].
The entire second half of this installment had me going nuts with emotion and then, it just ended. Just like that. I was so so incredibly disappointed and I was extremely upset with the way it ended, because it didn't leave me with any closure, it just left me wondering if I had a dodgy copy and if pages were missing.
Due to that, and the slow beginning, it really pains me to give this a three star rating because if it ended differently, this series could have easily been up there with some of my other favourites. I'm afraid I can't say that anymore. Apr 21, Miss Kim rated it it was ok Shelves: As I progressed through Forever, I tried to keep an open mind that it was going to get better.
I had seen the mixed reviews on GR, so I did know it probability was high that I was not going to love it. I really think the author was bored with this series and its characters before she attempted to write the third.
This one had no emotion, and it was dare I say boring. The covers of all three are very pretty, and if you read pa As I progressed through Forever, I tried to keep an open mind that it was going to get better. The covers of all three are very pretty, and if you read paper, you get the treat of beautiful colored font. It seemed ok in Linger because there was more going on. Isabell and Cole would break in when I would start to get interested.
Isabell stomps around pissed all the time, and Cole is just there. Anticlimactic and lame. The End. What a rip off. In a nutshell: I really liked it. Not quite as much as the first two books, but I still liked it. There were a lot of things I really appreciated about this series. I'm not a huge fan of paranormal romance because they all tend to be exactly the same, so I like that the Wolves of Mercy Falls had its unique traits. Secondly, I really like her writing style.
It's kind of a shame that her first popular series had to be a werewolf series because it caused people to go into it thinking, "Oh, this is going to be exactly like Twilight" and therefore losing respect for her. And yeah, there is a lot of mushy-gushy stuff in the series. But I see a lot of potential in Stiefvater's writing and ideas and I expect even greater things to come from her in the future.
Thirdly, I'm so glad there was no love triangle in these books. I'm so effing sick of love triangles that the very idea often makes me want to explode. When I first heard about Cole coming into the series I was like, "Oh no I really liked him and Isabel as a couple. And I like that Grace is dedicated to Sam and not going around, leading on every boy who comes along. I mean, she's not the greatest character on the planet, but at least she's a somewhat better role model than many YA heroines if you could even call them that out there.
So, yeah. Writing, story, characters Good stuff. There were only a couple of issues I had with this book in particular. It was kind of a big cop-out. No pun intended. Usually when I finish a series I really like, I'm left with this powerful feeling——this cross between satisfaction and sadness that the series is over. It left me with more of an empty feeling, like I didn't think things had quite been tied together.
I think the main issue was that it all seemed really rushed. Pretty much the whole ending happened within the last pages or so.
The first two books also had somewhat rushed endings, but at least there was more buildup to them and I found the endings more satisfactory. Now they're gone. Beck's dead. Shelby's dead. Cole's dead. Just kidding, Cole's not dead. We're all leaving Mercy Falls. I just couldn't bring myself to believe that Grace's parents would trust her to go off to Norway. I'd think they'd be pretty suspicious especially after her dad had so many issues with Sam.